My Team
When you became a client, you've placed your trust in me to help make your vision a reality. I honor that trust with the help of expert support staff. Together, we make a strong commitment to customer service.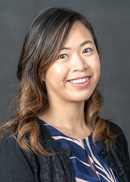 Nancy Dang
Director of Client Services
Office 781-237-7070

I wind down on the weekends with my amazing husband Mara and rambunctious toddler Brady. We love making forts and playing with our rowdy terrier Bruno. Sunday football is a holiday in my family, and brings everyone together weekly from September to (hopefully) February. But my favorite pasttime is still curling up on a cold rainy day with a hot chocolate and book. I attended University of Massachusetts - Boston  and studied in communications and political science. After working in the healthcare field for 5 years, I am currently pursuing my bachelor's degree in Psychology at Southern New Hampshire University and hope to obtain my master's soon after.